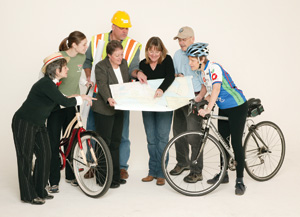 Origins: Heritage Route Roots
The idea for the Sleeping Bear Heritage Trail grew from a group called the Leelanau Scenic Heritage Route Committee, which has among its goals is the aim of preserving the beauty and historical integrity of highways M-22 and M-109 while also keeping the road safe. State legislation empowers the group, and the Northwest Michigan Council of Governments coordinates the activities. A citizen-led organization, the Heritage Route group includes representatives from 12 municipalities, the Grand Traverse Band of Ottawa and Chippewa Indians, the Leelanau Conservancy, the Leelanau County Road Commission, Chambers of Commerce, TART Trails, the Sleeping Bear Dunes National Lakeshore and others.
Not long after the group formed in 2001, it conducted a broad evaluation of the route, which included how people use the popular highway. The group quickly noticed safety concerns with the many bicyclists, walkers and runners using the narrow road shoulders. The situation was likely to cause accidents involving cars and bikes.
When the National Park Service revised its management plan during 2005-2009, Lakeshore officials included plans for a multi-use trail through the park. Pros and cons of the proposed trail were discussed at length during the management plan comment period, and eventually the trail was included in the Lakeshore's final management plan. In 2005, the Heritage Route Committee set up a special work group charged with making the trail a reality.
TART Trails, Inc: Connecting Communities

TART is a non-profit organization that works to connect the entire region with world-class trails, bikeways, and pedestrian-friendly streets that link people to the beauty of the Traverse region year-round. TART helps manage and maintain more than 60 miles of trails  including the Leelanau Trail, Vasa Pathway, TART Trail, Boardman Lake Trail, Boardman River Trail, Buffalo Ridge Trail, Three Mile Trail and Mall Trail.
TART is the preeminent trail authority in northwest Michigan and successfully lead a million-dollar capital campaign, Pathways to the Future, in 2002-2003 to complete a number of trail projects. The Sleeping Bear Heritage Trail is a great opportunity for TART to collaborate with project partners and extend the trail network into western Leelanau County. We have a professional staff of seven and in addition to building and maintaining trails, are one of the largest bicycle and pedestrian advocacy organizations in Michigan.