The Pathways to Sleeping Bear campaign reached the $2 million milestone in private fundraising. Campaign Co-Chair Carol Quarderer and her husband George shared, "We are thrilled and grateful to hit the $2 million mark in fundraising for the Sleeping Bear Heritage Trail. We deeply appreciate the support and generosity of our donors. This beautiful trail will continue to bring many benefits to both our local community and visitors."
The first 4-mile section of trail connecting Glen Arbor to the Dune Climb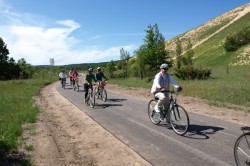 opened June 2012, providing car-free access to amenities and attractions including the DH Day Campground, Glen Haven, Glen Arbor and the Dune Climb. Construction of the next 5.5-mile segment from the Dune Climb south to Empire is expected to be complete by Summer 2014.
Less than $100,000 is needed to reach the $775,000 private fundraising goal to extend the trail north from Glen Arbor, through Port Oneida and on to Bohemian Road (Co Rd 669). This past December, Rotary Charities of Traverse City awarded a $50,000 challenge grant with a 1:1 match that helped spur year-end support from 99 individual donors. Executive Director Marsha Smith expressed Rotary Charities' support for the trail project, "Access to recreation is an important part of our grant-making strategy. We are delighted that so many other donors have responded to our challenge grant and agree that this trail provides the opportunity for everyone to enjoy our abundant natural resources. Rotary Charities believes the Sleeping Bear Heritage Trail is an excellent example of how the regional economy leverages our prized natural resources into a recipe for resilient and vibrant communities."
Construction of this trail segment will begin in 2015 to be complete in 2016, and will bring the trail length to over 17 miles. Donors of $1,000 or more will be recognized on a permanent donor plaza to be constructed at the Dune Climb this spring. In addition, donors of $5,000 or more will receive a limited edition signed print of an illustrated trail map created by well-known local artist Glenn Wolff.
To donate or learn more about the Sleeping Bear Heritage Trail please visit www.sleepingbeartrail.org or contact Pam Darling, Development Director for TART Trails (pam@traversetrails.org or 231-941-4300).
When complete, SBHT will stretch 27 miles—from the northern end of Sleeping Bear Dunes National Lakeshore (Good Harbor Beach at County Road 651), to Manning Road, just south of Empire.
Want to learn more about the trail and opportunities to show your support?
Contact Pam Darling, Development Director for TART Trails (pam@traversetrails.org or 231-941-4300).
Stay tuned for more exciting trail news on facebook.
Download the Phase II Brochure.
Signup  to receive the e-newsletter with updates on the Sleeping Bear Heritage Trail.
The Sleeping Bear Heritage Trail is a project of the Leelanau Scenic Heritage Route Committee (LSHR). Trail development is a partnership between the LSHR Committee, the Michigan Department of Transportation, Sleeping Bear Dunes National Lakeshore, Friends of Sleeping Bear Dunes, and TART Trails. Funding for trail development comes from federal and state grants, foundations, and individual donations.