Phase II fundraising for the Sleeping Bear Heritage Trail is underway to extend the trail from Glen Arbor to Port Oneida and on to County Road 669 (Bohemian Road), adding nearly 8 new miles of trail.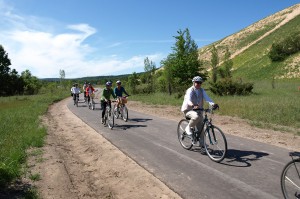 Help us reach the $775,000 goal in private donations to build these additional 8 miles by donating online, or contacting Pam Darling, Development Director of TART Trails, at 231.941.4300.
The first segment connecting Glen Arbor to the Dune Climb was completed in June of 2012, and this fall we will break ground on an additional 4 miles of trail to Empire,  with anticipated opening in spring 2014. Nearly 5 miles of trail Glen Arbor to Port Oneida will be done in fall of 2014, and 3 miles from Port Oneida to Bohemian Rd/669 will be constructed during 2015.
A permanent donor plaza will be constructed at the base of the Dune Climb in spring of 2014 to recognize donors of $1,000 or more. Well-known local artist Glenn Wolff created an illustrated map of the trail and donors of $5,000 or more will receive a limited edition signed print.
When complete, SBHT will stretch 27 miles—from the northern end of Sleeping Bear Dunes National Lakeshore (Good Harbor Beach at County Road 651), to Manning Road, just south of Empire.
Want to learn more about the trail and opportunities to show your support?
Contact Pam Darling, Development Director for TART Trails (pam@traversetrails.org or 231-941-4300).
Stay tuned for more exciting trail news on facebook.
Download the new Sleeping Bear Heritage Trail brochure, which includes a map and trail information.
Signup  to receive the e-newsletter with updates on the Sleeping Bear Heritage Trail.