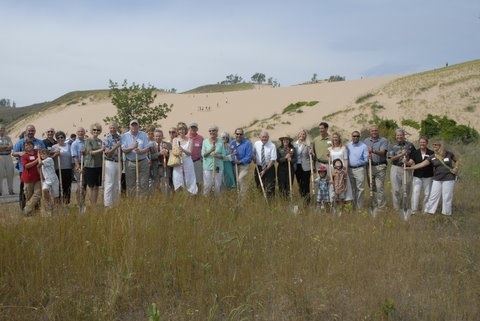 After half a decade of planning, some debate, and the solidification of enthusiastic support across a broad spectrum of the public, the Sleeping Bear Heritage Trail will officially launch with a groundbreaking ceremony at the Dune Climb on Friday, August 12 at 11 a.m. When completed, the 27-mile trail will run from the southern edge of Leelanau County, through the Sleeping Bear Dunes National Lakeshore to Good Harbor Bay. The groundbreaking celebrates the upcoming construction of nearly five miles of trail between Glen Arbor and the Dune Climb, roughly parallel to M-109. Construction is scheduled to commence next spring and be completed in 2012.
The Heritage Trail will be a hard-surfaced, multi-use trail through the Lakeshore. According to Sleeping Bear Dunes Deputy Superintendent Tom Ulrich, "It will provide a new, and much-needed, recreational opportunity for us all; that is, a non-motorized trail that can be used to travel between the Lakeshore's main visitor destinations, Glen Arbor and Empire. The SBHT will give bicyclists — as well as walkers, runners, wheelchair users and baby strollers — a safe, enjoyable and car-free way to explore the Lakeshore and neighboring communities. The Lakeshore has over 100 miles of hiking trails, but exactly zero miles of bicycle trails. The trail will be fun, and will get a lot of people out of their cars and into the outdoors."
The trail will be a boon not just to sport bikers, but to those looking to commute without using their automobile. "I think the most exciting thing about the trail is that it's not just a fun hike or ride, but that people can actually use it to get around the area," says Ulrich. "I live up in Centerville Township, so I will be most excited when construction gets up to County Road 651, and I can hop on my bike and get on the trail there."
And the Heritage Trail won't just be usable eight months a year, as Ulrich attests.
"One of the ways I am most looking forward to using it with my family, though, is for cross-country skiing. Because the trail will be built 10 feet wide to bicycle trail standards, we will be able to groom it for classic and skate skiing; another thing we don't currently have in the Lakeshore."
The Sleeping Bear Heritage Trail is a project of the Leelanau Scenic Heritage Route Committee (LSHR). Trail development is a partnership between the LSHR Committee, the Michigan Department of Transportation, Sleeping Bear Dunes National Lakeshore, Friends of Sleeping Bear Dunes and TART Trails. Funding for trail development comes from federal and state grants, foundations, and individual donations.
"After five years, this amazing Leelanau Scenic Heritage Route project is taking physical shape. By this time next year, we will be able to safely bike, walk, or wheel from the Dune Climb to Glen Arbor with the opportunity to stop at other park sites in between," says Patty O'Donnell, Sleeping Bear Heritage Trail Project Manager — Northwest Michigan Council of Governments
The trail was included in the National Lakeshore's most recent management plan and garnered strong public support during the planning process. According to Sleeping Bear Dunes National Lakeshore Superintendent Dusty Shultz the "The Sleeping Bear Heritage Trail is the single most exciting project to come out of our recently completed General Management Plan. The trail will provide a wonderful way to explore and learn about the park, as well as become a meaningful alternative for visitors to travel between park sites and local businesses — without having to use their cars."
Julie Clark, Executive Director of TART Trails is grateful for the strong collaboration between partners. "Many partners came together to make this trail a reality. We are very excited for the groundbreaking ceremony on August 12th as it officially launches the public fundraising effort," said Clark.
Campaign Tri-Chair, Karen Van Nort is excited about the groundbreaking, "We are thrilled that families will have a safe place to ride their bicycles. We hope the public will join us as we kick-off this legacy trail."