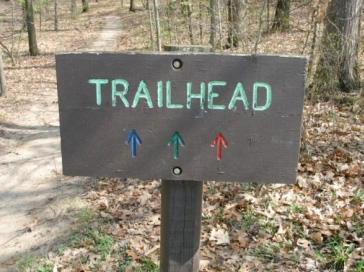 The Ticker – Traverse City News and Events
by Heather Johnson Durocher
June 28, 2011
Imagine trekking from the Dune Climb to Glen Arbor to the heart of the Sleeping Bear National Lakeshore, then finishing the day in Empire – all without stepping foot in a car.
Such is the experience trail advocates are hoping will happen with the completion of the Sleeping Bear Heritage Trail, a hard-surfaced, multi-use trail paralleling M-22 and M-109 for 27 miles through the Sleeping Bear Dunes National Lakeshore. With help from $70,000 from Rotary Charities, the trail's first phase – connecting the Dunes to Glen Arbor – starts with a groundbreaking Aug. 12 and should open by summer 2012.
"I think it's going to allow families in particular a safe way to visit different park attractions and be able to park their car and ride their bikes and see sights you couldn't appreciate from driving by in a car," says Pam Darling, marketing and outreach director for TART Trails, which is one of several organizations working to build the Heritage Trail. "It's going to give a whole different perspective, being on a bicycle and being able to hear, smell and see the parts of the park."
Along with the Heritage Trail, TART is working on several other bigger projects to connect various parts of the city with neighborhoods and schools. "In terms of the Grand Vision and what people said they wanted, bike-ability and walk-ability were the highest things," Darling says. "We think we're in the right place at the right time to advocate for more trails. I think – Traverse City, we've done a lot of good so far, but I think there's a lot more that can be done to get everything connected."
Two more trails in the works to make Traverse City even friendlier to those traveling by bike and on foot:
Buffalo Ridge Trail – This estimated $200,000 path eventually will run from Division Street to Silver Lake Road and on to West Middle School, the new YMCA and South Airport Road. Numerous neighborhoods also would become interconnected through trails. Up first: designing the pathway that'll connect the Village at Grand Traverse Commons to the soon-to-be built extension of Franke Road at Silver Lake Road (also known as the South Campus entrance). "The road and trail are being designed simultaneously," Darling says. Expected completion of this first phase: spring 2012.
Leelanau Trail – TART is seeking to raise $500,000 to pave the 6.5-mile path from Lakeview to Revold roads. "We hope to have it paved in time for Tour de Tart 2012," Darling says.